I would say it's been a pretty darn swell year for music already. You can tell that some of the stuff released this year will be "essential" or "seminal" later in the 2010s. Like in 2019, there'll probably be an album from this year in the top 10. However, I still haven't found my new Merriweather Post Pavilion because I actually am still sexually aroused by the record.
Here's my favourites so far (in no particular order):
Flying Lotus - Cosmogramma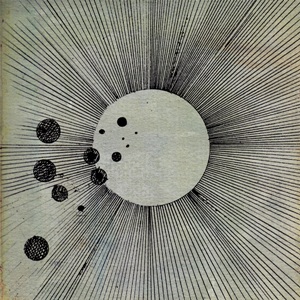 I was reading some reviews for this brilliant album while at work. Someone compared it to Massive Attack's Mezzanine in that it was the genre perfected. However, I couldn't tell what genre he was talking about. FlyLo is still classified by some as dubstep, but this is a tag I do not agree with in the slightest. And to say that Cosmogramma is the perfection of the electronica genre is a huge claim when Aphex Twin exists. I would regard this as the peak of FlyLo's career, but not of a genre because it's the kind of album that sticks out in your music library. It doesn't just get lumped into one category. It's so much more.
Jónsi - Go
It can easily be agrued that this album is nothing more than Jón Þór Birgisson "selling out" from his status as a post-rock master craftsman. I disagree. Yes, it's pop. Yes, it's bouncy and cute, but it's also pop not for the radio. You probably will hear "Go Do" and "Boy Lilikoi" on the radio this year if you haven't already, but see if Nova will pick this up. They won't because it's a pop record with a brain. Also, it's a little too arty for the Lady GaGa's out there. Also, I would bet that he can get more straight men than GaGa, the ugly hoe.
Erykah Badu - New Amerykah Part Two: Return of the Ankh
Neo-soul rules, and I think Erykah is the voice of the genre. Sorry D'Angelo. Yeah, it's less funky and fun as Part One, and doesn't have a song as good as "Honey" (which is technically a bonus track), but you can tell she's poured a lot of soul into this, as you'd expect from a soul record. Madlib's production is great, as you can expect, and he does a great job of not pulling a dick move like he did on Mos Def's The Ecstatic last year where he recycled a Beat Konducta jam. Or maybe Mos wanted it. Who cares. The atmosphere created on this album is purely dripping with adoration and enthusiasm to make a killer record. Erykah Badu has done just that. Me loves.
Janelle Monáe - The ArchAndroid
Erykah Badu's main competition this year in terms of the loveliest voice of 2010. This contemporary, arty R&B record may totally rip-off Metropolis, but in the best way possible. Actually, it's suites two and three (suite one was her debut EP) of a four-suite concept. Regardless of the concept, this album is musically something very special. Janelle has completely rewritten the standards for R&B, genre-hopping while still being firmly rooted in traditions. Except the song with of Montreal, which doesn't quite sit right because it's so damn of Montreal-y. Outside of "Make The Bus," this album will satisfy anyone except maybe RnB listeners because the production isn't a terrible Timbaland rip-off (who sucks, may I add) and the instrumentation is intricate and subtle rather than "IMMA BE IMMA BE IMMA-IMMA-IMMA BE!!!"
The National - High Violet
This might just be the only rock record that matters this year. On the surface, it's nothing new: A delicate album about heartbreak and loneliness. After a few listens, this album digs into you. It becomes a beautiful set of songs that may or may not apply to you. They probably won't because you weren't engaged and haven't seriously thought about having kids. The album is a man growing up and coming to terms with what the world expects him to do. It's pretty fucking great. Understandable why it's #1 on rate your music for 2010.
However, I would say that my favourite song this year has got to be Nas and Damian Marley's "As We Enter." It is so slick.
Nas and Damian Marley - As We Enter