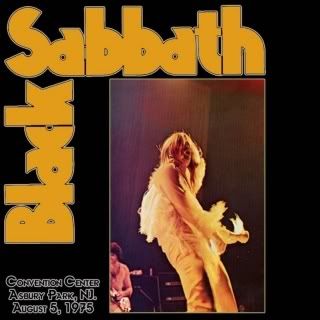 Black Sabbath are ABAP. I recommend every download this recording from right here:
THIS IS AN AMAZING LIVE DOUBLE ALBUM
But yeah, I've been getting into my bootlegs recently. Some Aphex Twin Peel Sessions, Melodies From Mars (unreleased Aphex), Beatles on Sweedish Radio in '63, Beatles rooftop gig on Apple Studios, Napalm Death Peel Sessions, Godspeed You! Peel Session, Nirvana live in '91 and Hendrix in San Diego in '69. Yes, Con's going download crazy because he just realised that 25GB is a lot of monthly downloadable crap.
And even if you don' like Sabbath (yet), you will after you listen to that recording. Iommi's guitar solos are shredalicious, Bill Ward busts out 2 freakish drum solos in consecutive songs, Geezer Butler's bass is as amazing as usual and Ozzy is really on point vocally. The boys have a real chemistry at this show, and you can definitely hear it. While they have 4 albums to cover and Sabotage is on the eve of release, they skip a few classics, namely The Wizard, Sweet Leaf and N.I.B. but the live power of Hole In The Sky more than makes up for it. In 1975, if I was alive and like 20 years old and lived in England, I would have been there getting my soul eaten by Black Sabbath.
On a more serious note, here's some beautiful music:
And some depressing music
Lastly, I was this:
Anyone want to shout me a $1,246 camera? It has 2 lenses included and is for photography noobs like me. Camaaaaan. Fine, I'll get it myself. I'll sell my body on the street so I can get it. At least then I can take crazy good photos of my syphillis and herpes from all the hideous back-alley sex I'll have to endure to get it. Then take some beautiful scenery photos and then say that I'm an artist because the juxtaposition of the factory smoke on the sunset really speaks to me about mankind's impacts on nature. You know, that cool stuff that cool camera guys do.
LOOKIN' FORWARD TO NO MORE EXAMS / THE REST OF THE YEAR! ARE YOU?